Why You're Losing Market Share When Your Brand Health Metrics Look Great
When brand health scores are negative and profits are falling, brands know they must take immediate action. The correlation is simple. Brand loyalty has taken a hit and therefore sales take a dive.
When a brand is losing market share, the first place professionals look to is the Brand Health Report. One can expect that a mixture of several things could be to blame. Years of market research reveals there are standard "buckets," if you will, of common customer complaints:
Poor Customer Service (CX)
Poor Customer Experience (UX)
Ignorance of Unmet Customer Needs
Value Economy Issues
Brand Health Trackers should be providing clues to the why behind negative outcomes. But what happens when all brand health KPIs are positive, but the market share and profit seem to have lost positive correlation? Let's first take a deeper look at those common consumer complaints:
Poor CX/UX: Are You Sure You Know What Your Customer is Thinking?
Poor customer service tops the list of chief complaints. As consumers, none of us find this surprising. Companies, however, find this incredibly surprising because 80% of them believe they provide superior customer service. The research, however, shows that only 8% of customers agree.
What is not taken into consideration is that most customers who experience problems with a company don't bother to complain, telling researchers over and over again:
It's too much trouble

There is nothing to gain in the short-term

It won't do any good in the long-term

If the odds are ten to one against your company being one of the best, why do so many miss the mark by so far? Three out of four dissatisfied customers say they quit doing business with a brand because they received incompetent and rude service. Even when the company is alerted and customer service reps are called in to mitigate the issue consumers report that those brand representatives consistently fail to answer questions or solve their problems. So how can brand metrics appear healthy?
How Companies Try to Understand Their Customer
Brands employ customer satisfaction surveys, brand trackers and more to assess customer sentiment and Net Promoter Score (NPS). But each one of these takes time to get into the field. What is required for a more robust approach is an agile way to supplement brand metrics with smaller and timelier insights that can catch emerging and nuanced changes in consumer opinion.
Even brands with many approaches to sourcing consumer opinion data can be making one or several key mistakes:
Erroneously taking a general lack of complaints to mean they are providing superior service or products
Asking the wrong questions of the wrong people for the wrong reasons at the wrong time
Creating surveys that are too long and too boring with no clear focus or explained desired outcome
Asking their own customers to take surveys with no compensation, inherently demonstrating they don't value the opinion they are asking for
Failing to launch studies about their competitors
Fielding studies with vendors who do not fairly compensate respondents
Setting to standards to ensure data is created by humans – not bots
For a sad, but hilarious (only because it is true) take on this from the consumer's perspective, consider this open letter to Delta Air Lines: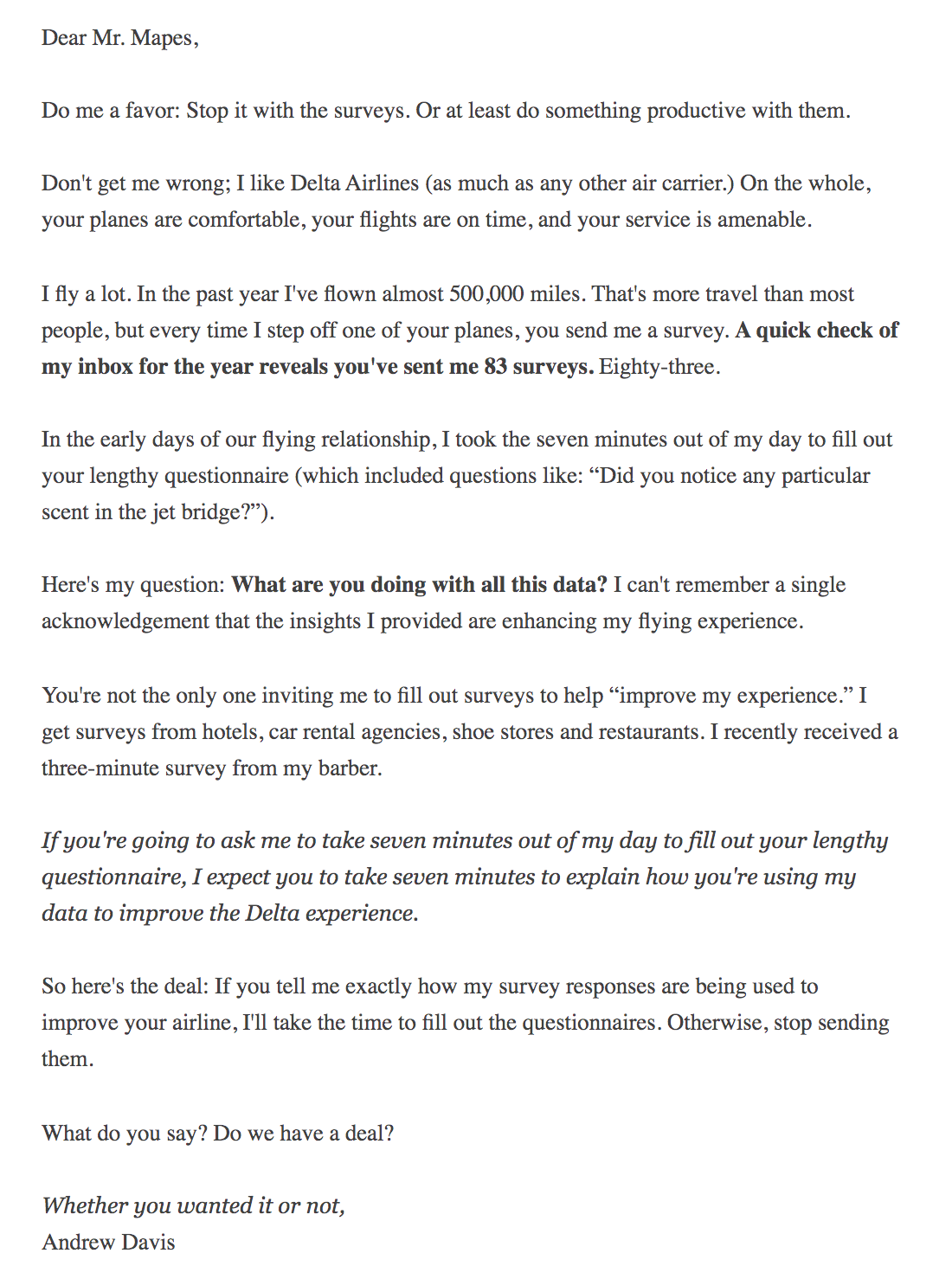 Ignorance of Unmet Customer Needs: Do You Really Know Your Customer?
Customers are not static. They want new and innovative products. They change their outlook on life over time and reward brands that meet newly emerging needs and wants.
We now live in an incredibly disruptive business world. No vertical or brand has been untouched by disruption. Brand loyalty and buying patterns are no longer inextricably tied. What this means is that your brand metrics can show a deep love of your brand all the while profits are plummeting. In other words, your brand doesn't have to lose prestige to lose market share.
How Disruption Works
One way new brands easily threaten well-established brands is by simply redefining a consumer experience. For example, a disruptor brand may push the notion that the consumer does not have to be shredding the side of El Capitán to wear workout clothing. Niche brands or market disruptors can redefine your average trip to Whole Foods or a simple walk around the block as an "outdoor activity" and that more casually active person can identify with a new brand and buy elsewhere without having lost love or respect for the market leading high-performance brand. To say it another way, while your Lululemon customer may still think highly of the brand and products, an emerging company may offer yoga wear as acceptable attire for that trip to the grocery store without the need to workout before or after. This small shift in perception meets a customer's need in a way the established brand failed.
Successful disruption requires more agile and direct insights. Many of them accomplish this with smaller budgets because they employ technology that finds ways to have meaningful interactions with customers and potential customers. They use that feedback to immediately iterate further studies and keep that cycle going to keep results consistently relevant.
Why Brands Fail to Respond
Many organizations have become complacent and base too many decisions on old assumptions that were once true but are no longer. Asking the right questions of your consumer base and tailoring your research around a two-way street is imperative when looking to build and maintain an innovation pipeline. An ignorance of customers' unmet needs leads to consumers spending with newcomers and trying new brands even when they don't think badly of yours. When consumers are not understood or queried properly, no innovation pipeline is created with them in mind and they are easily lured away by disruptors who know well how to take advantage of this phenomenon.
In this way, smaller, more agile companies are stealing away your most valuable customers by carving out niches and offering targeted products that have greater appeal – even while your brand metrics may show a deep love and respect for your brand. While they push your NPS up, that same consumer may be voting for another brand with their wallet. When brands don't have studies in the field to gauge their competitors' standing with those same clients they are not really comparing apples to apples, meaning their stand alone NPS may need some context to truly understand the data received.
Value Economy Issues: Welcome to Cancel Culture
The modern customer expects more from brands than just products and services.
Major brands are losing customers across nearly every category and brand loyalty itself is coming into question and being turned upside down. To earn and retain customer loyalty, brands need to demonstrate that their values are aligned with customers' values for things like sustainability and commitment to the community. In order to live these values out in alignment with the consumer, brands must first deeply engage with consumers to understand the nuances of what the consumer wants and expects from brands. When brands chase or mimic values only in lip service they are found out. Cancel culture has seen many brands fail reasons completely outside of product performance or service experience.
From here you can see that the traditional Brand Health Report is no longer the gold standard for understanding the market. In some way you could even say that this approach to consumer market research is broken. The gold standard today is a much more agile approach that connects more directly and more often with the consumer in the right context.
What's a Brand To Do?
A loss in market share could prompt the short-term reaction of lowering prices. Other brands may take it a step further and look for new channels for their products. More industrious brands may look to fast-track innovation and get new products out into the market. If none of these brand actions involve circling back to the consumer with a plan to understand their persistent and emerging challenges, opinions and sentiments, these will have no long-term impact.
The best approach to solving the mystery between brand slippage and positive metrics is a serious revision of the brand health study itself. While it may be too far-reaching to state that your brand health report is entirely broken, it at least needs to be reviewed with a critical eye and a curious mind:
CRITIQUE – A sharp look at your current brand health research study will reveal a gap in insights about specific issues from the customer's perspective. Instead they are answering static questions created by a brand manager far removed from the customer's actual life.
CURIOSITY – It's not always a case of throwing a Brand Health Survey or NPS data out entirely, but asking quality questions about what is missing in the data. Supplementing brand metrics reporting with smaller, more gut-checking and timelier reporting can provide additional insight into the nuances of brand health in a way a full-blown longitudinal study simply cannot.
Critique and curiosity can get you only so far. In order to make good on these revelations, a more agile solution is needed to get closer to the consumer and reduce time between deploying a survey and studying the data. For brands to win, the fundamental mindset must be that consumers will correctly guide all business decisions if they are asked properly.
Tools to make this reality are now table stakes for brand success. Brands need easy access to tools that enable the following:
Direct Interaction with Consumers: Market research is a two-way street. Establishing a "talk back" feature to your market research can provide "aha" moments and clues about issues on consumer's minds where brands have not created inquiries. Many companies handle this by creating custom panels. In the past those were incredibly expensive to create and maintain. But new technology and business processes that value consumers allow for quick queries with follow-ups that can take the place of a clunky and time-consuming process. Having the ability to easily take a deeper dive with original respondents creates a dynamic between brand and consumer. That two-way engagement is a vital component to understand the true health of any brand.
Gut Check Capabilities: Brand Health Trackers and other longitudinal studies can take a long time to get into field and by the time results are back in, compiled into reports and presented to stakeholders the data can be stale or worse, completely wrong. Supplementing research and longitudinal brand studies with quick questions to check responses in the current economy and cultural context can be an effective use of budget – safeguarding larger decisions with smaller verifications if greater agility is needed.
Ease in Iteration: No one study is going to deliver all required insights. Instead of fielding large and cumbersome studies, brands should consider shorter, more powerful surveys in rapid succession. True iteration can happen when the new questions are only created after the last results are reviewed. In this way, gathering preliminary insights allows smart researchers to incorporate the timely findings into the next round allowing a greater chance of uncovering unmet needs and enabling greater human understanding.
In today's world, market trends evolve rapidly and consumer opinion can turn on a dime. Brands are increasingly called upon to make decisions within compressed timelines. Brands need the confidence in their market research tools and reports to make informed decisions to move the brand forward and create greater impact. Attention to customer experience with access to agile consumer engagement technology has become the basis of a competitive edge in the marketplace.
Are you ready to join the revolution?
{{cta('1d7484c5-4517-4c2f-a2b8-dbef0e71670b','justifycenter')}}{{cta('27f5eaf2-5bcd-4420-a96b-f2dd1dac8944′)}}
---